User experience plays a crucial role in any software application's success.
Progress OpenEdge Pro2
has taken a significant step forward with its latest release, Pro2 6.5. This update focuses on two essential aspects: providing real-time status updates for bulk load processes and streamlining field mapping for tables with a refined user interface.
Let's explore these usability improvements and understand how they add value to Pro2 users.
Real-Time Status Updates for Bulk Load Processes:​
The bulk load process is a fundamental function of Pro2, allowing users to synchronize source and target databases efficiently. However, previous versions of Pro2 needed more real-time feedback on the status of ongoing bulk load operations. There is no visibility into how many tables have been bulk loaded, how many failed and how many are processed. This led to a lack of visibility and uncertainty during the process. Pro2 6.5 addresses this by introducing a live status display feature in the web user interface (UI).
Now, Pro2 users can track the progress of their bulk load process in real-time. The refined UI includes a dedicated pane on the bulk load page that displays the status of ongoing operations. Users receive an initial notification at the start of the process and another one upon completion. This valuable feedback empowers users to monitor and manage their bulk load operations more effectively, ensuring data synchronization without any guesswork.
The Bulk Load Running Status pane displays the near real-time status of the ongoing/completed bulk load. Granular data, such as the count of tables successfully processed, left to process or failed during the bulk load process, is displayed along with the global status of the bulk load process on the bulk load status cards. The information on these cards is automatically updated every five seconds and here is the screen capture of the feature in Pro2 6.5: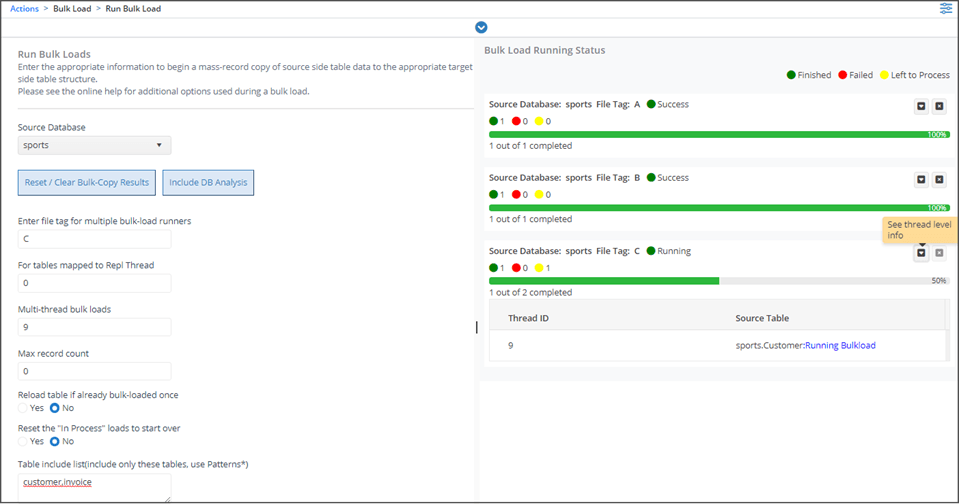 Streamlined Field Mapping:​
Field mapping is critical to database synchronization, mainly when dealing with tables containing many fields. Before Pro2 6.5, users faced challenges mapping fields, as the UI only allowed searching for tables, not individual fields. This limitation created inconvenience and inefficiency, especially when dealing with tables that had hundreds of fields.
Pro2 6.5 introduces a refined UI for field mapping, significantly improving the user experience. The updated user interface now includes a search bar specifically for fields, enabling users to locate and select the required fields quickly. This enhancement eliminates the need for users to endlessly scroll through long lists of fields, saving time and effort. Whether mapping a handful of fields or dealing with extensive databases, users can now efficiently navigate and select the necessary fields, greatly enhancing productivity.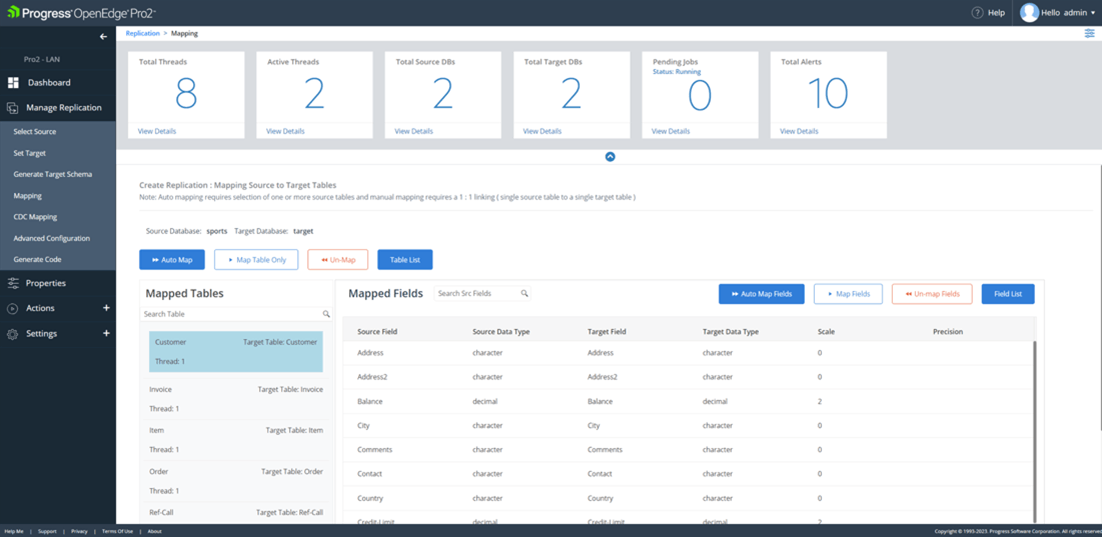 Value-Added Enhancements:​
Besides addressing usability gaps, Pro2 6.5 brings additional functional enhancements that augment the user experience. One notable enhancement is the ability to input a list of table fields directly in the Pro2 mapping process. This feature empowers Pro2 Administrators to define the exact fields they want to synchronize, streamlining the configuration process and providing greater control over data integration.
The release of Pro2 6.5 signifies a significant step forward in improving usability and user experience. With real-time status updates for bulk load processes and streamlined field mapping capabilities, Pro2 empowers users to synchronize databases efficiently and seamlessly. The refined user interface and added functionality greatly enhance productivity, reduce manual effort and provide a more intuitive experience.
These improvements ensure that Pro2 remains a leading choice for users seeking a robust and user-friendly solution for their database synchronization needs.
Upgrade to Pro2 6.5 today and experience the enhanced usability that drives seamless data synchronization and improved productivity.
Check out these videos to learn more:
Learn more about Pro2
here
.
Learn More
Continue reading...