Imagine a doctor trying to diagnose an illness without knowledge of the patient's symptoms, or a caseworker creating a care plan without understanding their client's needs. Now imagine being the patient or client in these scenarios. Service providers are only as good as the information they have, and the customer experience is directly correlated to these conditions.
How to Use Data to Improve the Customer Experience of Citizens​
Citizens around the globe are being heard loud and clear—they expect a better experience than what they typically get when performing transactions with government agencies. Individuals are more technologically savvy and have increasingly complex lives that must be considered to deliver a streamlined, positive experience. For some programs, however, these experiences go beyond satisfaction to preventing crisis and affecting critical health and social outcomes.
Improve the Customer Experience
Many citizens, particularly in health and human services, are served across multiple programs and do not have the knowledge or means to navigate the many diverse entry points for service. Whether it is a need for housing, food security or healthcare, it is critical to deliver these services as quickly and efficiently as possible.
Improving the citizen experience and streamlining cross-programmatic service delivery is often identified as a priority by government leaders. In their
most recent report
, NASCIO identified Digital Services as the second-highest priority for government CIOs around the U.S. While technology solutions exist to provide an improved and streamlined experience, the legacy architectures currently in use are not easily modernized or integrated.
Traditionally, it has been time consuming, costly and error-prone to integrate complex data from disparate government systems into one unified and accessible digital experience for citizens. Now, there is a better way.
Overcoming The Challenges for Governments​
In today's data-driven world, government agencies collect vast amounts of data from a variety of sources. This data is frequently stored in different formats and locations, making it difficult to analyze and use effectively. The challenge lies in providing the right data to the right people at the right time. To gain insights from this data and affect the streamlined service delivery models that are needed to improve the citizen experience, it is often necessary to merge data sets from multiple sources. However, merging data sets can be a complex and time-consuming process that requires careful planning and execution.
This is where data platform solutions like Progress MarkLogic come in to support an improved service delivery model of health and human services and meet the vast requirements for data interoperability. MarkLogic provides a highly differentiated platform that eliminates friction at every step of the data integration process, enabling organizations to achieve a 360-degree view of critical insights faster than ever. By simplifying data integration, the MarkLogic data platform helps organizations gain agility and lower IT costs, while safely sharing their sensitive data.
Learn more about MarkLogic

It ingests data from multiple sources, performs a series of functions and integrates the data into a unified source that can be used for cross-programmatic service delivery, program management and robust reporting capabilities.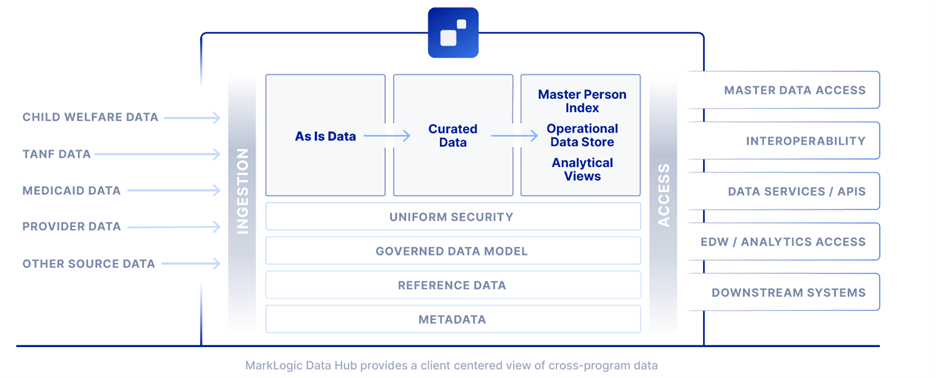 Data Integration: Simplified​
With this approach, there is no need to spend months cleaning the data, establishing data standards or manually mapping it. The data platform's sophisticated capabilities, including government-grade security, person-centric views, search and discovery, master person index and notifications and alerts, enable organizations to quickly discover connections across programs, service lines, geographies and other critical aspects of program management. Many customer success projects are implemented in as little as four months, providing a rapid return on investment to solve the most complex issues facing HHS leaders today.
It Just Makes Sense​
Health and Human Services agencies are facing significant resource constraints and addressing urgent issues. Merging data sets can be a complex, prolonged and costly process. It doesn't have to be that way. The business case is easy: MarkLogic simplifies and expedites data integration efforts, allowing organizations to quickly gain valuable insights and make informed decisions based on accurate and trusted data.
Continue reading...