Alexander Shumarski
Guest
One of Marketing's key priorities is proving ROI. It is undoubtedly one of the biggest challenges, too. This blog post discusses some ideas to help overcome many of the marketing challenges you may face.
There are many contributing factors that can prevent marketers from achieving their goals, so...
What Are Some of The Most Common Marketing Challenges?​
The growing complexity of the user journey and the multitude of touchpoints and communication channels.
Limited visibility caused by data silos.
Insufficient in-house resources and conflicting priorities.
Limited adoption of insights-driven marketing to support significant decisions.
While your mileage may vary, bumping into such challenges can slowly drain your vital energy and throw you off track.
In my 20+ years of experience, I have realized that slow and steady wins the race. I have had my fair share of failures when I have tried to rush things, and there are undoubtedly many projects I never started, waiting for a miracle to happen.
In his book
The Atomic Habits
, James Clear shares many ideas on how to get good habits to stick.
Something as simple as getting your sneakers out of the cupboard and placing them near the door is all you need to pick a good habit and change your lifestyle. The next step would be to lace those new shoes up and walk around the house. The third step—show up at your local park.
The rest is easy.
Picking up and reinforcing good habits requires advancing in small steps and committing until you have reached the stage where it becomes second nature.
In marketing, you can make small steps and consistent efforts to eventually help you get where you want to go without ruining your motivation or getting burned out.
Remember: Slow wins the race. And everything starts with your content.
1. Define Your Content Strategy​
Many content creators get discouraged when a blog post they have created sinks on the Google search result pages. Or THAT whitepaper they put their soul into did not get the attention it deserved.
The bitter truth is that about 90% of our content remains hidden for its entire lifecycle.
Your number-one priority, however, should remain unchanged: Create relevant content.
Your second priority is keeping an eye on your content performance and finding a way to promote your work.

Keeping an eye on your content is easy in Sitefinity. Here is how you can setup reminders to keep your content fresh​
You can take five simple steps to ensure that your content will get into the limelight:
Identify your target audience.
Choose the target channel and the funnel stage.
Make your content evergreen.
Define and keep an eye on the metrics.
Repeat.
This is a relatively simple routine. This approach would work for many, but there are two challenges: Bias and bandwidth. Choosing what to write about or which content to promote can be influenced by many factors, often leading to poor ROI. Bandwidth can also become an issue if you manually update multiple web pages to keep them stocked with fresh content.
2. Let AI Do The Hard Work​
Sitefinity AI Content Recommender is a new addition to the robust AI-driven capabilities offered by Sitefinity Insight. As complex as it is behind the scenes, it serves a clear purpose—it helps marketers identify and promote relevant content that can help you ace your KPIs.
The machine learning (ML) algorithm will identify content along the user journey that has helped shorten the path to conversion for other visitors and dynamically promote it to help increase engagement.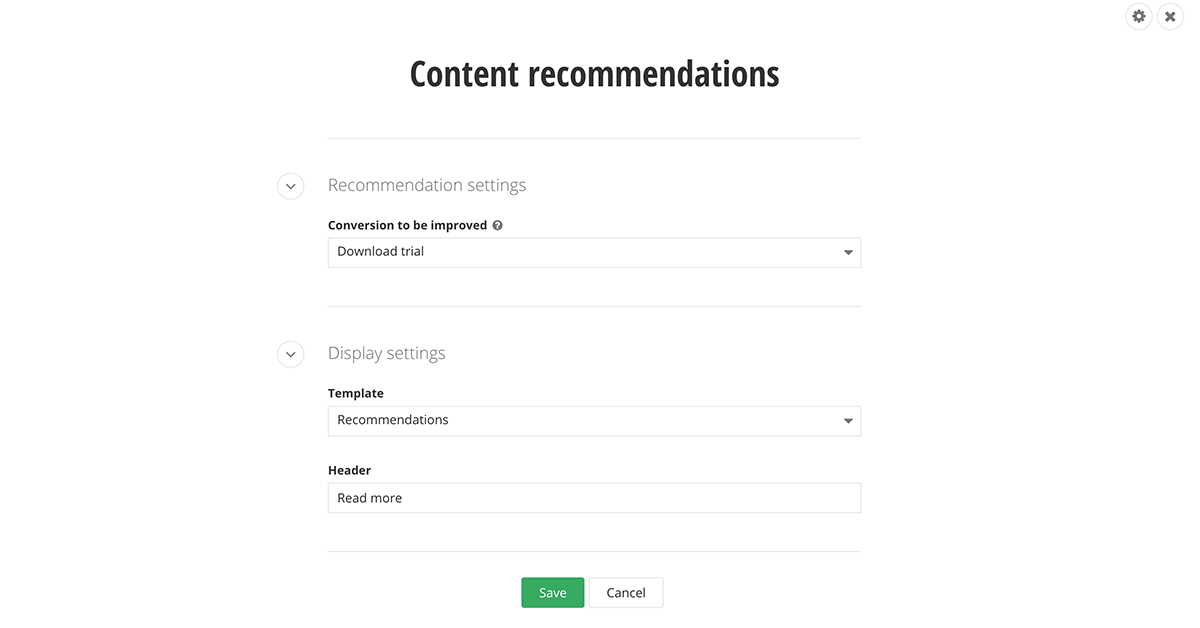 Personlizing the journey is now easier thanks to the AI-driven content recommendation that identifies and the Next Best Action​
By offloading some of your day-to-day duties to AI, you can focus on creating more compelling copy, doing sales enablement, digging into web stats and refining your marketing strategy. It also helps alleviate the stress of manually keeping your website pages fresh.
Want to know what Sitefinity Insight AI Content Recommender can do for you?
Get a demo
.
3. Plan. Test. Repeat. Discover The Joy of A/B Testing​
A couple of years ago, a friend mentioned that they had just completed a website redesign. Despite the new, modern UX and sharp look and feel, the new website failed in the conversion department. Lower conversion rates equal fewer sales. To my question, "Did you do any A/B testing or focus groups before implementing the new design?" he shook his head no.
So, the last time someone asked me to switch the label of one of the buttons on our website, I politely asked them to do an A/B test first.
All marketers should put assumptions to the test—whether testing new website copy, positioning, page layout or switching to a new color scheme. You want to optimize the experience, increase conversion and not roll out changes that might hurt the funnel.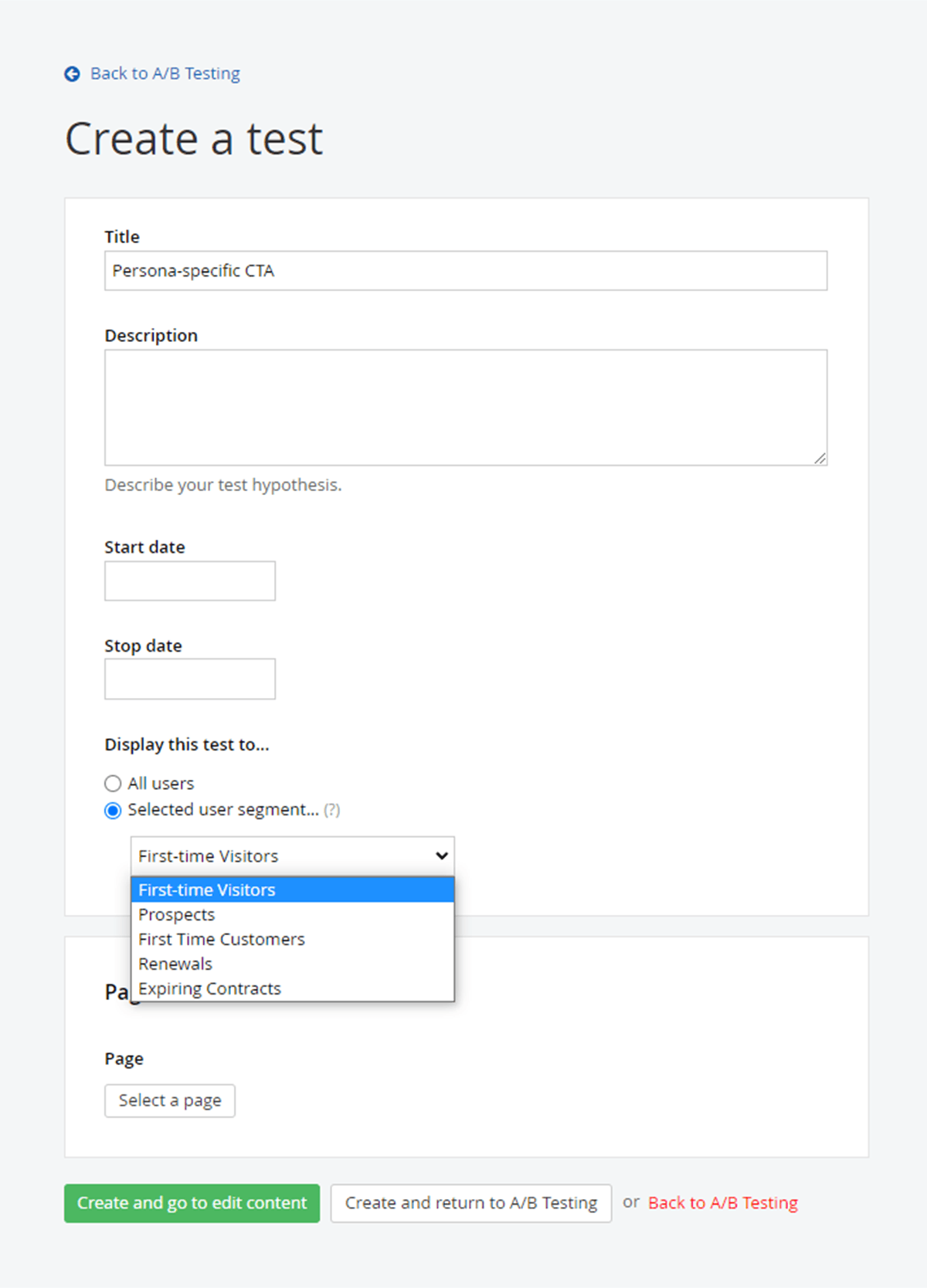 Targeting specific segments for A/B testing can help increase relevancy and results​
Sitefinity DX customers can tap into the built-in capabilities to quickly design and test variations of their content and see what works best. The A/B testing capabilities in Sitefinity Insight let you plan and try unlimited variations, slice and dice your audience and pick a subsegment for your tests.
As with any new hobby or activity, start small and go from there. A demo is a good start, so
here
is a shortcut to our contact us page—our CRO experts will be more than happy to show you around.
First Touch, Last Touch, Linear and Multitouch Attribution​
Two words: Do it. Get into the habit of reviewing your attribution report in Sitefinity Insight.
Attribution helps you understand what channels, interaction points, marketing tactics and content positively impact your sales funnel.
Sitefinity Insight supports four attribution models guaranteed to give you the visibility you may have been missing. Leveraging the proper attribution model helps you plan smarter, spend smarter and support your organization's goals for increased adoption of insight-driven marketing.
Here is a rundown of some of the most popular attribution models.
First Touch Attribution Model​
The first-click, or First Touch attribution model gives credit to the first touch point, regardless of whether that marketing campaign directly influenced the sale.
Use First Touch attribution model to discover the methods and strategies that drive the most new visitors or customers.
Last Touch Attribution​
Your prospects might interact with your organization through different marketing channels. But often, the place they convert is the channel most worthy of your attention.
The Last Touch attribution model can help you identify which channels provide the most conversions.
Linear Attribution Model​
This Linear Attribution model assigns scores to all touchpoints in the customer journey. Each resource is given an equal portion of the attribution to this conversion and is guaranteed to keep everyone across your organization happy. Per the linear model, content creators, SEO, Marketing Ops, social media and PPC gurus get a slice of the cake.
The linear model is valuable when measuring your marketing strategies holistically. It helps you get a better overview of multiple aspects of your marketing strategy: SEO, Content, Demand Generation, Social, Brand awareness and more.
So, choosing an attribution model can significantly impact the entire organization on many levels.
Modern-day marketers must carefully plan where they will focus their energy, attention and budget.
Here is another point of view: Hiring talent is becoming harder, and many companies are in a hiring freeze mode due to headwinds.
So how do you make an informed decision about hiring a content creator, a product marketer, an SEO expert or someone who bleeds social media when cut?
Multitouch Attribution Model​
While basic attribution models can add color to your marketing, the data-driven attribution model has all the bells and whistles, is guaranteed to know all the answers and impartially provides insights into where you should focus your attention.
The linear-touch, first-touch and last-touch attribution models are rule-based, and you must decide up front what credit to give to each touchpoint based on its position in the journey.
For example, the AI-driven model that Sitefinity Insight uses looks at the journey holistically. This model attributes credit to the touchpoints based on their strategic importance rather than whether they came in first or last in the path before the conversion is completed. In this process, the weights are decided automatically by the model, and you do not need to guess which are the most critical touchpoints, as in the rule-based models. It is a probabilistic model that considers converting and non-converting customer journeys, giving you a complete overview of what works and what does not.
So, There You Have It​
Three imperatives for you to consider in the coming year: Keep your site fresh, try new things and analyze the results.
If you are looking for a fresh start, Sitefinity DX and Sitefinity Insight can help you get in shape.
Get a demo
.
Request a Demo
Continue reading...