SiteSync is the Sitefinity mechanism for promoting content across your website environments. The module handles one-way transfer of content from the authoring/staging environment all the way to the live website. This blog post rounds up the novelties in a tool that will give thousands of Sitefinity content editors a new level of independence.
Back in December 2011, Sitefinity got a new jewel in the crown, as SiteSync debuted in Sitefinity 4.4. The goal was to allow users to sync content between the development, staging, and production environments, decoupling development activities from testing and authoring on the live site.
The tool was architected for Administrators. Of course, it was the business users (marketing) creating and updating content, but ultimately, it used to actually get promoted by the administrators (IT). The sole focus of marketers was the creative aspect.
Brief History of SiteSync​
Over the following years, a lot of things changed. Marketers' skillsets became much broader, the demand for content exploded. Additionally, we started seeing more and more organizations with a worldwide presence, requiring multilingual content support. That obviously called for reinforcements in content curation. As a result, the number of business users significantly exceeded that of IT.
A tool like SiteSync became more and more critical as a means of isolating content editing from the production website, but steadily, the IT was turning into a bottleneck. That was happening for two main reasons.
Administrators were vastly outnumbered by content editors, to an extent they couldn't keep up with all the requests for content promotion, resulting in delays and errors.
On the other hand, administrators usually don't have a clue—as in they don't even understand the language of the content they are promoting. They just mechanically sync, which is error-prone.
This called for a change of course with SiteSync from strictly a tool for administrators to one that content editors can independently and safely use. We believed in empowering content editors, who were already dealing with a much broader set of tasks beyond just content editing, to promote content themselves while keeping the same level of security and integrity, while giving Administrators the right tools for oversight and troubleshooting.
This blog post looks at how content editors can work on content staging the way they are working today and independently promote their content to production. The usual setup of SiteSync includes a content staging environment where the content editors create or update content, and a production environment, which is the live, customer-facing channel like a website.
Sync Content and Pages​
With the new SiteSync capabilities for content editors, content can be created on the staging environment and then promoted to production by the very same roles. Essentially, the entire process is under the control of the content editor.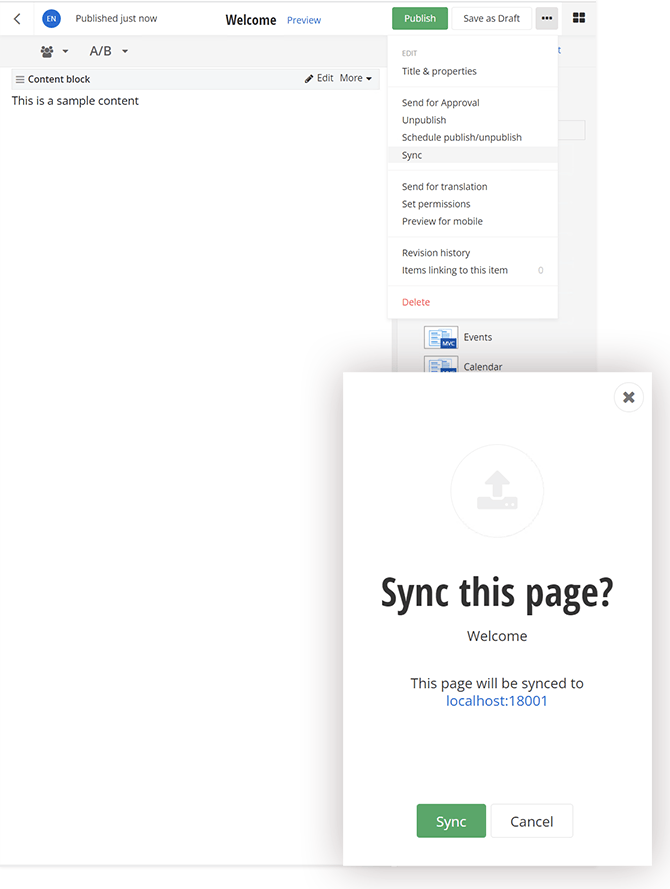 The flow empowers content editors and follows the best content governance practices. SiteSync makes content promotion more business-friendly compared to entrusting it to admins.
Sync Page Dependencies​
With the new SiteSync, Sitefinity DX provides a "what you see is what you sync" experience. So, for example, if you have an image on a page or in a content block, it will be promoted along with your page as a dependency.
It was critical to provide a high level of transparency to content editors, so they're always aware of what is being promoted at any given time.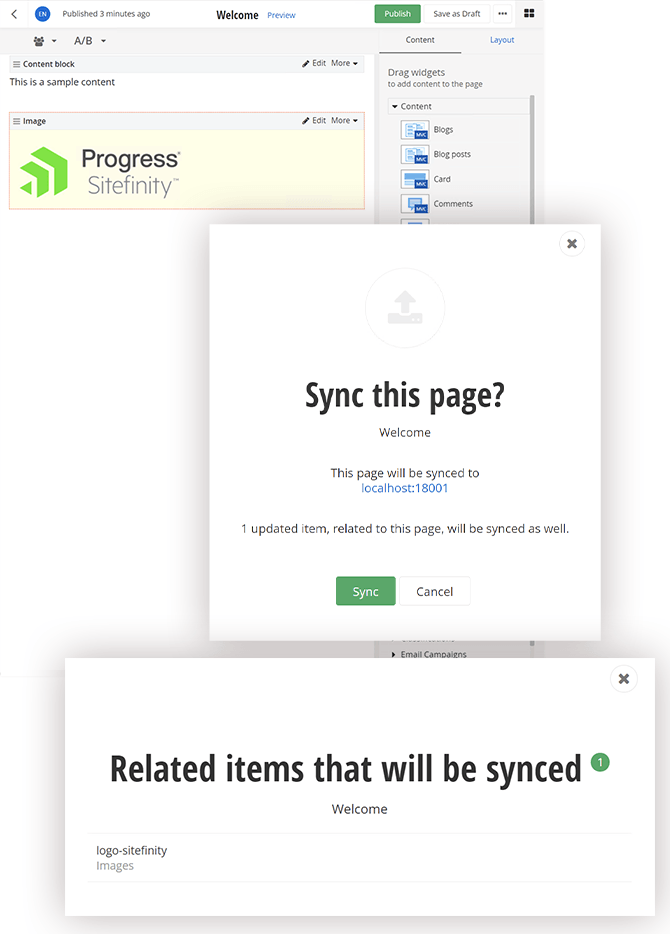 Filter Items Awaiting Sync​
In the ocean of content, it's challenging to determine what's new and waiting for promotion. Sitefinity DX 14.0 addresses that by providing a new filtering option for all the items awaiting sync.
The custom filter can also show the items of a specific content editor that are waiting for sync.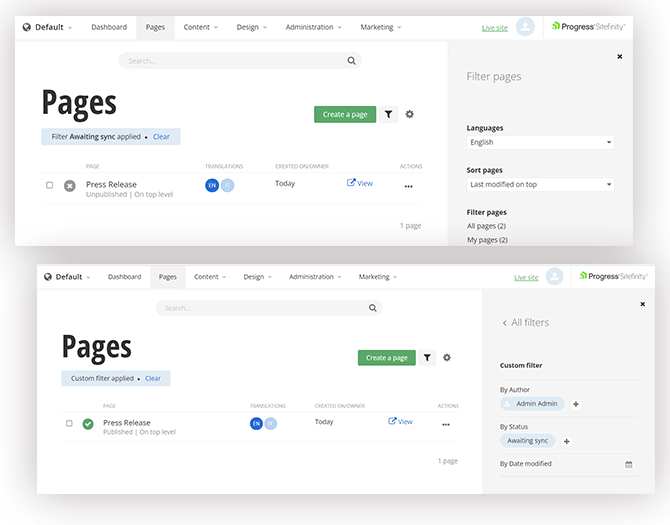 Multilingual Sync​
The promotion of the different language versions is as intuitive as possible. The current language version is promoted.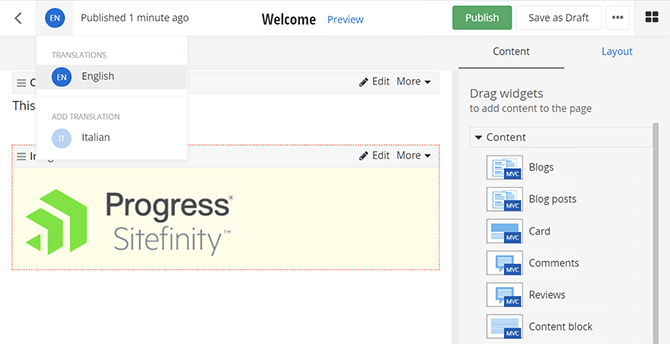 Document Sync​
In addition to content itself, we acknowledge how critical working with files and media is. Therefore, the same workflow for syncing content is applicable to all library items as well.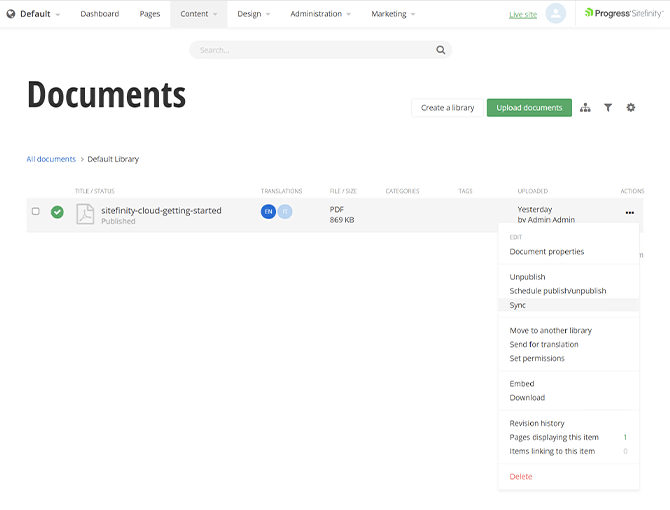 Schedule Sync​
In the cases where a specific content item needs to become available online at a particular time, SiteSync handles both steps in the process for content editors:
Schedule the content for publishing (at a specific time in the future)
Promote to production
Content will be synced to the production environment and flagged as scheduled for publishing. At the specified time, it will go live.
The same approach applies to unpublishing. Even better, you can define the entire lifecycle of content by scheduling it to be published and defining the time at which it will be unpublished.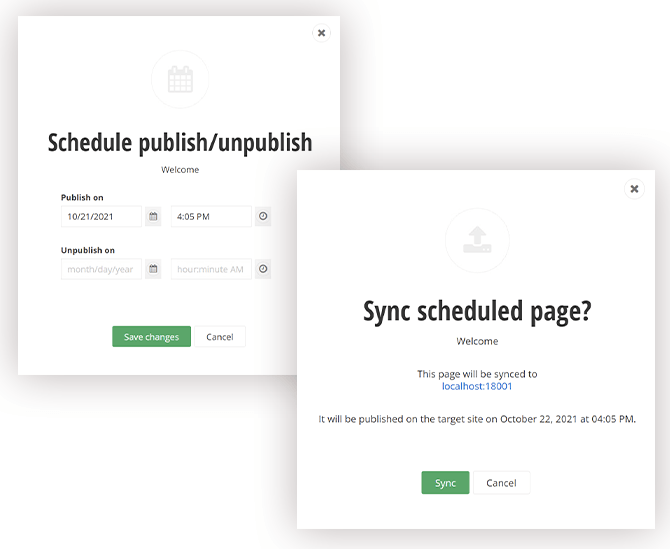 Unpublish​
Adding new content is as essential as unpublishing content when you need to—for example, content that appeared on the live website by mistake or content that is not relevant anymore. SiteSync gives content editors the freedom to handle these scenarios independently and in a timely manner, without getting administrators involved.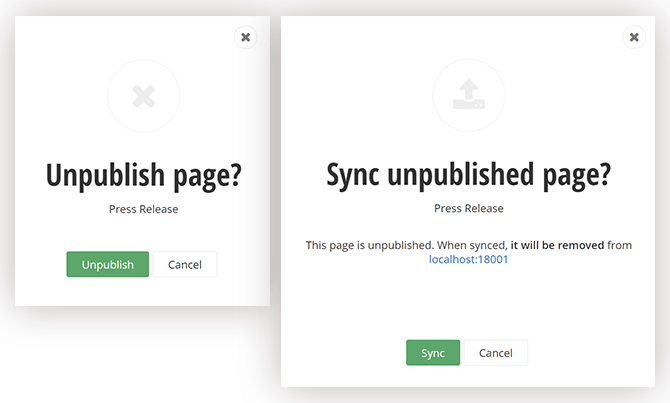 Sync in Bulk​
We know marketers are usually busy creating fresh content to keep visitors engaged and informed. Oftentimes, content editors do need to sync multiple pages and content items at once. Operational efficiency? SiteSync delivers. With Sitefinity DX 14.0, content editors can sync items of any given type of content in bulk, regardless of their status.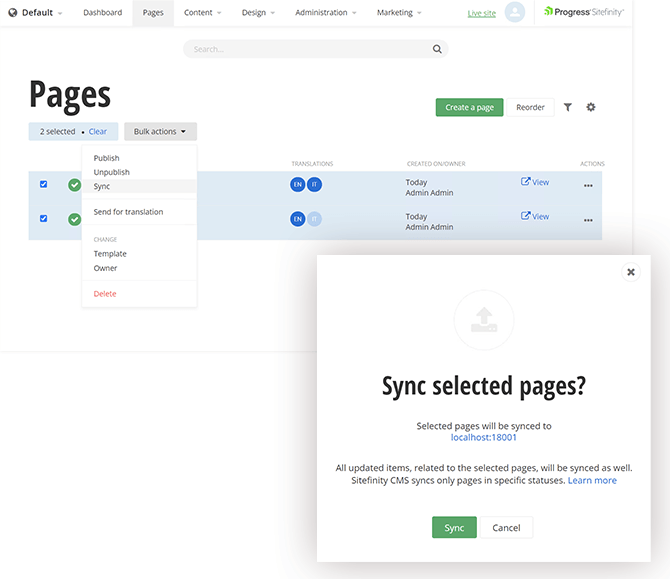 Wrap-up​
A Sitefinity staple, SiteSync has come a long way becoming the textbook solution for creating and publishing content. A dedicated environment for content creators and editors to do their magic, isolated from your production website, and a reliable, error-free process for promoting content—that's your recipe for a zero-risk operation.
Download Your Free Sitefinity Trial
SiteSync all but rules out issues with your live site's performance and is much safer than creating and editing content directly on production—especially in organizations with large editorial teams.
It helps you solve problems before they occur. It provides an "undo" option, which is a luxury no one editing directly on the live environment can afford. Secure workflows and editorial independence for quality content—delivered by SiteSync since 2011.
Continue reading...