For Women's History Month, Progress is celebrating the accomplishments of pioneers who made incredible contributions and inspired generations of women in science, technology, engineering and mathematics.
On Feb. 18, NASA successfully landed its Perseverance Rover on the surface of Mars. The world found out the landing was complete when a member of NASA's Jet Propulsion Laboratory
exclaimed "Touchdown successful!"
That person who broadcast the exciting news was Dr. Swati Mohan, an Indian American engineer who is the guidance, navigation and controls (GN&C) operations lead for the Mars 2020 mission. The GN&C subsystem is the "eyes and ears" of the spacecraft, according to Mohan.
Soon after the landing, Vanderbilt University astrophysicist
Karan Jani tweeted
: "Dr. Swati Mohan (
@DrSwatiMohan
) has inspired a new generation of scientists today."
Mohan is part of the wave of women currently thriving in the fields of science, technology, engineering and mathematics—also referred to as STEM. Advocating for more women in STEM is a passion of Progress, inspired by one of our co-founders
Mary Székely
.
Mary helped pioneer Progress technology and mentored many developers and engineers, both men and women, for more than 30 years. After Mary passed in 2019, the Progress Software Mary Székely Scholarship for Women in STEM was created in her honor—aiming to inspire the next generation of women in tech.
So as part of the celebration of Women's History Month, as well as looking for the next scholarship winner to follow in the footsteps of our inaugural honoree,
Kaya Dorogi of Columbia University
, we've put together a list of important women in the history of STEM.
The Great Eight in STEM History​
Ada Lovelace
—First known as the daughter of famed poet Lord Byron, she made her own name by becoming the founder of scientific computing and the first computer
programmer. Her algorithm—which history has come to know as the first one designed for a machine to carry out—was intended to be used for Charles Babbage's Analytical Engine, but Lovelace passed away before the machine was completed. Since her death in 1852, Lovelace's previously little-known work and approach to science that experts have called "poetical" has broken through to inspire present-day young women interested in computer programming.
Read about Ada Lovelace Day here
.
Elizabeth Blackwell
—Inspired by the case of her terminally ill friend who wished for a female physician to tend to her, Blackwell made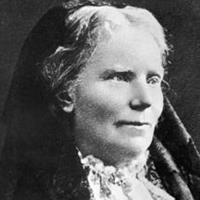 history as the first woman to receive a medical degree in the United States, and the first woman on the Medical Register of the General Medical Council. Born in England but raised in America, Blackwell pushed for social awareness and moral reforms in both countries as she pioneered promoting education for women in medicine. After graduating from medical school, she opened her own practice, and soon opened an infirmary for women and children. She went on to establish the U.S. Sanitary Commission of 1861 under President Lincoln, to encourage sanitary conditions and health in war, and started a medical school for women in the late 1860s. She died in 1910 at 89.
Marie Curie
—This titan of science not only became the first woman to win the Nobel Prize, in physics in 1903, she became the first person—male or female—to win two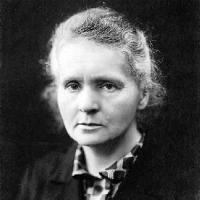 Nobel Prizes when she was awarded her second, in chemistry, in 1911. She still is the only person to earn two Nobels in two different sciences. Teaming with her future husband Pierre, her experiments led to the discovery of polonium and radium before his tragic death in 1906. She went on to champion the development of X-rays, and invented portable X-ray machines, dubbed "Little Curies," that were used in field hospitals in World War I. Her life story has been reintroduced to people's consciousness with
Amazon Studios' feature film "Radioactive."
Elizebeth Friedman
—A name that has been brought to the nation's attention, thanks to
PBS' American Masters documentary "The Codebreaker,"
Friedman was a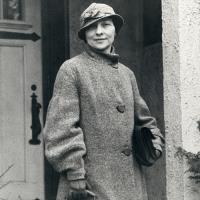 groundbreaking cryptanalyst whose painstaking work to decode thousands of messages for the U.S. government would send infamous gangsters to prison in the 1930s and bring down a massive, near-invisible Nazi spy ring in World War II. Most of the credit for her work was given to her husband, legendary cryptologist William Friedman, but her contributions recently came to light when secret government files were unsealed. Her work has laid the foundation of modern codebreaking today.
Grace Hopper
—Best known as the "Queen of Code," Rear Admiral Hopper was at the forefront of computer and programming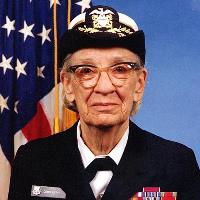 language development from her start in the 1930s until she retired from the Navy in 1986—as the oldest serving officer at the time. During World War II, she helped build "Mark I," one of the world's earliest computers. After the war, she led the development of computer languages written in English, rather than mathematical notation. Her most known achievement was COBOL, the common business computing language which is still in use today.
Katherine Johnson
—Thanks to the popular movie
"Hidden Figures,"
Johnson has emerged to her rightful place as a leading figure in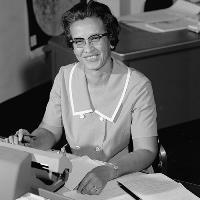 American space and African American history. With the incorporation of her computing tools after she joined an all-male flight research team, she played a huge role in calculating key trajectories in NASA's biggest space flights—from America's first launch into space with Alan Shepard, to Neil Armstrong and Buzz Aldrin's historic first landing on the moon in 1969. Awarded the
Presidential Medal of Freedom
in 2015 for a lifetime of work as a pioneering physicist, mathematician and space scientist, Johnson died last year at the age of 101.
Barbara McClintock
—She is the only woman to receive, by herself, a Nobel Prize for Medicine, in 1983 for her discovery of mobile genetic elements. That was just the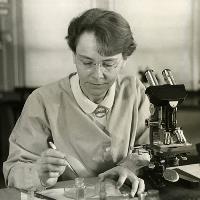 culmination of a career in genetics that led to a number of groundbreaking discoveries—like the phenomenon of chromosomal crossover, which increases genetic variation in species; and transposition, or genes moving around within chromosomes. Her work was ahead of its time, so much that for years it was considered too radical or simply ignored by fellow scientists. It wasn't until the discovery of DNA in the late 1960s when the scientific community finally validated her early findings.
Dr. Jane Goodall
—The famed English primatologist and anthropologist is considered the world's foremost expert on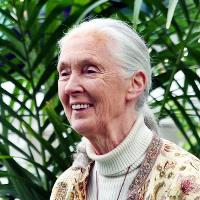 chimpanzees. Her study of social and family interactions of wild chimpanzees has gone on for over 60 years, since she first went to Gombe Stream National Park in Tanzania in 1960. She founded the
Jane Goodall Institute
, a global community conservation organization, and its international youth program
Roots & Shoots
. At 86, she still travels the world, nearly 300 days a year, to spread her message of peace and sustainability.
Honorable Mentions​
There are many other names worthy of this list, of course. Work by chemist
Rosalind Franklin
on the X-ray diffraction images of DNA led to the discovery of the DNA double helix for which James Watson, Francis Crick and Maurice Wilkins shared the Nobel Prize in Physiology or Medicine in 1962 (she died in 1958, and the Nobel Foundation generally doesn't make posthumous nominations).
Alice Ball
, at just 23, developed a groundbreaking treatment for leprosy, and became the first woman and African American to receive a master's degree from the University of Hawaii. How about
Sally Ride
, America's first woman in space—and at 32 the youngest American to leave the atmosphere? She was the only person to serve on both commissions that investigated the Challenger and Columbia disasters, and founded
Sally Ride Science
, an organization that inspires young people to pursue STEM careers.
A great one for trivia buffs is
Hedy Lamarr
, the famed Hollywood bombshell of the 1930s-40s who helped invent a system of frequency-hopping spread spectrum communication to block torpedo guidance during World War II. That technology is now one of the
key components to Bluetooth and mobile phone technology
. And a tech company like Progress definitely benefits from the contributions of
Radia Perlman
, an early computer scientist who in the 1960s became an internet pioneer by developing the algorithm behind the Spanning Tree Protocol (STP), an innovation that made today's internet possible.
There are many great stories out there that list many more, with two great links
here
and
here
, as well as
this link
for a look at what some current women are doing today.
As we honor these contributions during Women's History Month and find inspiration from their stories every day, the folks here at Progress know that women have played a giant role in making us the company we are today. And from the earliest innovators all over the world to Progress co-founder Mary Székely to the Perseverance Rover on Mars, we continue to look to our stars—celestial and earthly.
Continue reading...